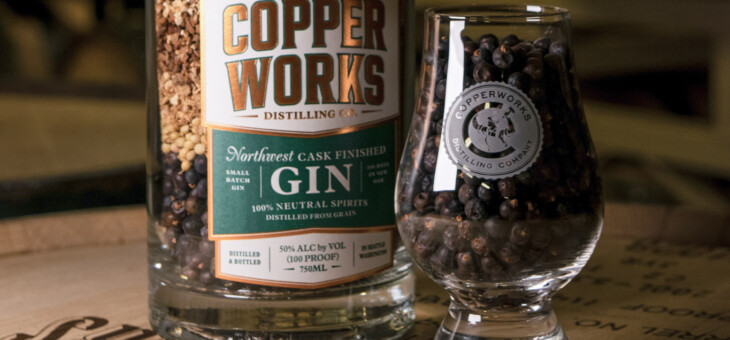 Transparency has always been important to us here at Copperworks. We've shared many a detail on the production of our American Single Malt Whiskey, and now we'd like to make a few things clear (yes, pun intended) about our gin by sharing our recipe.
First things first: what are botanicals? In terms of gin distillation, botanicals are plant materials used as flavoring agents. This includes the leaves, flowers, seeds, roots, and other parts of a plant. In addition to making gin, botanicals have long been used for purposes such as medicinal practices and cosmetic products.
These are the ten botanicals we use to make Copperworks Small Batch Gin, which serves as the base for our other gin expressions.
𝗝𝘂𝗻𝗶𝗽𝗲𝗿 – By law, gin must be made with juniper berries. It is the only required botanical. Juniper is known for its piney and herbaceous qualities, however, there are many varieties. We tend to select juniper from the Mediterranean for more fruity and floral qualities.
𝗖𝗼𝗿𝗶𝗮𝗻𝗱𝗲𝗿 – One of the most common botanicals in gin, coriander complements juniper with a bright citrus aroma and taste, similar to lemon balm but less herbaceous.
𝗟𝗶𝗰𝗼𝗿𝗶𝗰𝗲 𝗥𝗼𝗼𝘁 – Not to be confused with the flavor of licorice candies, licorice root adds a subtle sweetness and roundness when used sparingly, in addition to light earthy flavors.
𝗢𝗿𝗿𝗶𝘀 𝗥𝗼𝗼𝘁 – Another common ingredient, this is the dried root of the iris flower with a subtle floral aroma. It has been used as a fixative in the perfume industry and spirits industry alike, keeping aromatic compounds from volatilizing too quickly.
𝗔𝗻𝗴𝗲𝗹𝗶𝗰𝗮 𝗥𝗼𝗼𝘁 – Long used as a bittering agent and base component in botanical bills, angelica root offers an earthy, woody profile with sweet aromatics.
𝗢𝗿𝗮𝗻𝗴𝗲 𝗣𝗲𝗲𝗹 – Gin and citrus go hand in hand. Dried orange peel adds sweetness and slight bitterness in addition to citrus notes.
𝗟𝗲𝗺𝗼𝗻 𝗣𝗲𝗲𝗹 – Working in tandem with orange peel, dried lemon peel brightens the gin with citrus notes and a slight bitterness.
𝗖𝗮𝘀𝘀𝗶𝗮 𝗕𝗮𝗿𝗸 – The bark of this tree, native to warm East Asian climates, tastes like sweet cinnamon.
𝗖𝘂𝗯𝗲𝗯 𝗕𝗲𝗿𝗿𝘆 – Also called the "tailed pepper," this peppercorn offers aromatics of black pepper and clove.
𝗚𝗿𝗮𝗶𝗻𝘀 𝗼𝗳 𝗣𝗮𝗿𝗮𝗱𝗶𝘀𝗲 – A peppercorn native to West Africa, this botanical smells lightly of ginger and lends a subtle heat and drying effect to the palate.