Join a Bottling Party
Want to help us put Copperworks spirits in bottles? Please join us!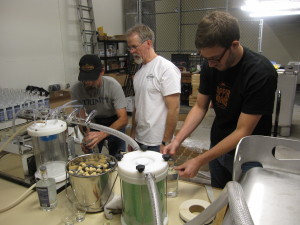 At a Copperworks bottling party, you'll join the Copperworks team in all aspects of bottling including: operating the filler, signing and applying labels, corking and sealing the bottles and more.
To thank you for your hard work, we'll provide pizza breaks, tastes of our spirits (after bottling, of course), and a token of our appreciation.
You can join the party by yourself and meet other enthusiastic spirit lovers, or come with a group.
Sign Up
If you're interested in joining a bottling party, please go to our email list sign-up form and check your interest in bottling parties. If you're already on our email list, you'll receive an email with a link to update your email preferences. Once updated, you'll be on the list to receive invitations to upcoming bottling parties.