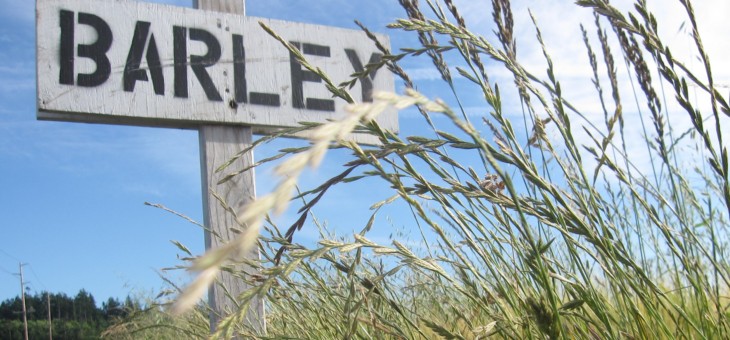 When you make American Single Malt Whiskey, the only grain you use is malted barley. So obviously the grain you use really matters.
Like any agricultural product, barley is subject to variation in flavor due to its variety, growing location, and the weather conditions. The Pacific Northwest, where Copperworks is located, has several different climates (from wet and cool, to hot and dry) and soil types (from rich and deep, to sandy and shallow). All these areas are used to grow great barley for malting.
So we've been exploring flavor possibilities by using barley grown in a variety of Northwest locations to produce our American Single Malt Whiskey.
Exploring the Flavors of Local Barley
In 2016, we began our program to support the local grain economy and highlight the unique flavors of grains grown in our region. Partnering with local farmers and malt houses, we produced several batches of whiskey made from a single variety of barley grown on a single local farm in one growing season. To keep it simple, we refer to the whiskeys in this series as our "Single Variety Malt Whiskeys."
We're working with five different varieties of malt grown on seven different local farms. We've repeated the process annually to identify the impact of weather and climate.
First Single Vintage Malt Whiskey Releases
As with all our spirits, we start by brewing an un-hopped beer. For our first release in the series, we made a beer from a barley variety named "Alba," grown on Knutzen Farms, located 70 miles north of Copperworks in the Skagit Valley. The barley was malted at nearby Skagit Valley Malting.
We knew almost immediately that the Alba was going to make great whiskey. The beer was richer and more fragrant, with deeper fruit aromas, than any malt we'd ever used. And the "new make spirit" (the white whiskey that comes off the still) was delicious.
We brewed and distilled 15,900 pounds of malt to produce eleven 53-gallon barrels of American Single Malt Whiskey. Most of the batch went into new American White Oak barrels produced by Kelvin Cooperage in Louisville, Kentucky. The top-quality barrels were seasoned for two years, with a long toast and a medium (#2) char. We also used two ex-bourbon barrels to test the effect a different type of barrel would have on the whiskey. We entered the whiskey into the barrels at 115 proof in March 2016 to start the maturing process.
The Alba Malt Shines Through
Tasting the whiskey periodically (truly one of the perks of our jobs!), we found that the flavors of the malt continue to shine through, giving rich dried fruit and dark sugar flavors and aromas to the whiskey, along with floral and spice notes. Two barrels of the whiskey were emptied in January 2019 and became the first releases in our Single Variety Malt series.
We're incredibly proud of this whiskey and are excited that we will soon be offering two single-cask releases of 100% Alba Malt whiskey. Stay tuned…