Copperworks Spirits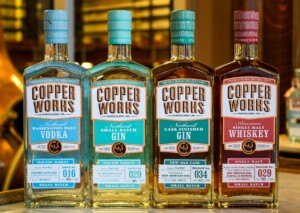 Copperworks spirits are all hand-crafted in our waterfront distillery in Seattle. Our spirits are available for sale in our tasting room, the Copperworks Online Store, and many liquor retailers across Washington State.
We ship spirits directly to consumer in states across the country where local laws allow. See shipping info.
Copperworks American Single Malt Whiskey
Copperworks Whiskey is made from 100% malted barley and twice-distilled in traditional copper pot stills specifically designed for the distillation of malt whiskey. The majority of our whiskey is matured in full-size, charred, new American Oak barrels that are coopered for us in Kentucky. Some special releases are matured in other kinds of barrels, such as French Oak or barrels that previous held sherry. See the releases available now of Copperworks American Single Malt Whiskey.
Copperworks Small Batch Gin
This award-winning, aromatic gin offers a distinctive balance of juniper and hints of citrus, coriander and other exotic botanicals. It's distilled from a base of Washington-grown malted barley — the grain we believe produces the best possible flavor in distilled spirits. It's perfect in a Gin & Tonic or more complex gin cocktails, and just right for a gin Martini. Learn more about Copperworks Gin and get cocktail recipes that work particularly well with our gin.
Copperworks New Oak Cask Finished Gin
Copperworks New Oak Cask Finished Gin is finished for roughly three months in charred, new American Oak barrels—the same barrels we use to age our single malt whiskey. Resting in oak has softened the juniper, brought forward the cinnamon, coriander and floral notes, and added the distinctive essence of vanilla and caramel from the barrel. This cask-finished gin is delicious in classic gin cocktails and work beautifully in place of whiskey in classic cocktails like a Manhattan or Old-Fashioned.
Copperworks Washington Malt Vodka
Our vodka is distilled from a base of Washington-grown malted barley, giving it a distinctive barley essence and a round, smooth mouth feel. It has a touch of sweetness, with a naturally-occurring hint of vanilla. It works equally well in vodka-forward cocktails, like a vodka Martini or Vesper, or in cocktails where the vodka takes a backseat to other flavors. Our customers love it in a Moscow Mule (served in a Copperworks Moscow Mule Copper Mug, of course…)