Sustainability Priorities
Sustainable business practices that support environmental protection and promote strong communities are a fundamental part of Copperworks business philosophy. We're dedicated to minimizing water usage, energy consumption, and waste production throughout our operations. And we have focused on partnering with small farmers and using/promoting locally grown malts.
Water Conservation and Waste Reduction
A critical step in the distillation process is turning alcohol vapor into liquid using a condenser. We run the alcohol vapor through small-diameter copper tubes that are surrounded by cold water which cools the vapor and turns it into liquid.
To minimize water usage in this process, Copperworks installed a 500-gallon cooling tower on top of our waterfront location. The tower enables us to re-use the same 500 gallons of water to produce each batch of spirits— dramatically reducing the amount of water required by our distilling processes.
Unlike most distillers in the U.S., we distill our whiskey two times, using two different stills. This enables us to save what isn't used in the first cut (the "heads" and "tails") and blend it into the next batch, which is the key to how Copperworks creates its distinctive house flavor. It also means we're sending less liquid down the drain.
In 2022, the 51 University Building (which the Copperworks Distillery and Tasting Room call home) was awarded a Platinum Dumpster Award. Each year, Recology King County, Seattle Public Utilities, and the Building Owners and Managers Association Seattle King County celebrate the green achievements of local properties with the Golden Dumpster Awards. The awards recognize properties who are implementing best practices to reduce waste, decrease solid waste management costs, and conserve natural resources. Platinum Dumpster winners are previous Golden Dumpster winners who have continued to improve their performance.
Environmental Protection | Salmon-Safe Whiskeys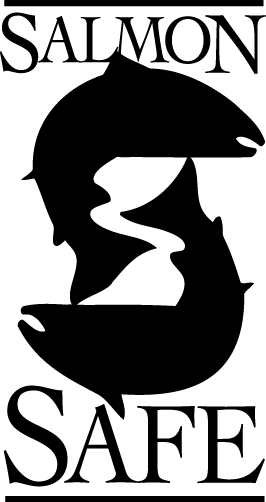 Release 039 of Copperworks American Single Malt Whiskey, released in 2021, was the first Salmon-Safe certified whiskey released in the U.S. Salmon-Safe is a certification that farmers, vineyards, campuses, and other lands can qualify for if they demonstrate a commitment to protecting the water, biodiversity, and stewardship of good farming. Those protections, in turn, protect salmon living in nearby streams.
In creating these releases of our American Single Malt Whiskey, we used barley grown on a local farm certified as Salmon-Safe. These releases demonstrate that great whiskey can be produced using environmentally sound farming practices without affecting the price or quality of the product.
Salmon-Safe releases from Copperworks:
Release 039
First Cut 2023 – Exclusive Single Cask Bottling
Release 046
Single Cask No. 51-2 (From our "Bottle Your Own" experience)
Single Cask No. 317 (From our "Bottle Your Own" experience)
PROOF 2023 – Exclusive Single Cask Bottling
Local Energy
Did you know that Copperworks doesn't actually have a boiler? Steam is essential for our stills to operate, so where do we get it from? We have the advantage of being neighbors with a steam plant here on the waterfront. This allows us to use "district energy," meaning instead of having a smaller, less efficient boiler at our facility, we can utilize the steam from a highly efficient series of boilers that distributes to many more facilities in our local area.
As an added bonus for our production, we have 100% uptime. This means we don't have to schedule around the downtime of our equipment- it's always ready to go.
Craft Malt Certified™
Copperworks is proud to be a Craft Malt Certified™ Distillery. While we officially earned this certification in 2021 (launched by the Craft Maltsters Guild in September 2019), we've met the standards for eligibility for the past seven years. To earn and maintain the Craft Malt Certified seal, we must ensure at least 10% of craft malt counts toward our annual malt purchases. For the past few years, craft malt has made up over 80% of our malt purchases. How is craft malt defined?  In short terms, craft malt is small, local, and independent.Small: A craft maltster produces between 5 and 10,000 metric tons of malt annually.Local: At least 50% of grain must be sourced within a 500-mile radius of the malthouse. (This gives maltsters flexibility in sourcing during bad crop years.)
Independent: The malthouse must be independently owned by a 76% or higher majority.
Community Support
Copperworks supports nonprofit organizations based in Washington State with a focused program of in-kind donations. We've chosen to concentrate our giving to nonprofit organizations which work toward environmental protection and conservation of natural resources, economic development for farming communities, breast and ovarian cancer research, and job creation in the food/beverage industry.