Copperworks Leadership Team
Jason Parker, Co-Founder/President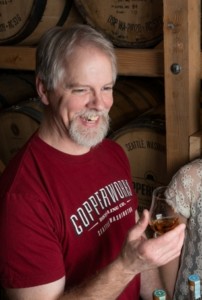 Jason was raised in Kentucky and may have a touch of bourbon in his blood. Maybe that's what got him into craft beer brewing in the early days, before there was even a microbrew scene in Seattle. With degrees in chemistry and microbiology and love of fine beer, he was the first brewer at Pike Place Brewery in 1989. He went on to refine his craft with Fish Brewing Company, Redhook, and work as Brewmaster at Pyramid Breweries. He partnered with Micah Nutt to open Copperworks in 2013.
A long-time advocate for craft brewing, craft malting, and craft distilling, Jason served as Board Member and chair of the Washington Distiller's Guild. He led Copperworks to become a founding member of the American Single Malt Whiskey Commission. He now serves on the Board of Directors of the Craft Maltsers Guild.
s
---
Micah Nutt, Co-Founder/Distiller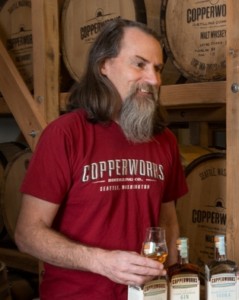 Micah is a skilled and technical home brewer. Introduced to the craft in the 1980s by his brother, Micah eventually constructed an efficient all-electric basement brewery. As a software engineer, he fully automated the process with computer control. But the solid-state relays, thermistors, and soldered circuit boards were abandoned after he realized that brewing is more fun when done the old-fashioned way.
Long encouraged by friends, Micah considered opening a brewery. But when Washington State passed legislation allowing craft distilleries, his thoughts turned to distilling. Among Micah's many talents is wood-working and he rebuilt and refined the stunning antique bar featured in Copperworks' tasting room.M
---
Jeff Kanof, Co-Owner/Vice President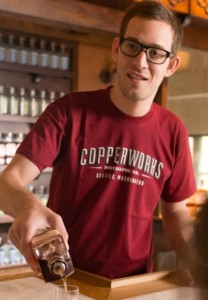 Jeff is a recovering attorney, having left his law firm job in New York City for the Northwest to focus on his passion for fine spirits. He cut his teeth in Seattle by helping to launch Letterpress Distilling.
Always an avid beer fan, Jeff spent a month in Belgium seeking out some of the world's best beers. His interest in complex flavors and craftsmanship led him to explore American whiskey. Countless bottles later, he realized he had fallen in love with spirits and the art of mixing drinks.
Jeff joined Copperworks in time to help bottle the first batch of spirits and now directs sales and a huge range of other functions at Copperworks. He serves as Secretary/Treasurer on the American Craft Spirits Association's Board of Directors.