Join us for a taste and a tour
Our tasting room is closed and our tours are cancelled until further notice.
Tasting
Enjoy a taste of Copperworks spirits, with a spectacular view of our copper stills, anytime during our Tasting Room hours.
Tastings are offered by senior distillery staff who have thorough knowledge of the full range of Copperworks spirits and how they are produced.
Cost:  $10 for a flight of 4 spirits (fee is waived with purchase of spirits)
Copperworks American Single Malt Whiskey
Copperworks Gin
The current edition of Copperworks Cask Finished Gin
Copperworks Vodka
Tours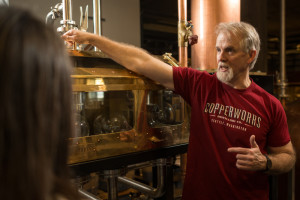 Get the full Copperworks story straight from the distiller's mouth in our small group tours. You'll learn about our distinctive distilling process, get a behind-the-scenes view of our stills, and visit our fermenting and barreling areas.
The tour wraps up with a guided tasting of our products.
Get reservations for your tour.
Price: $15 per person
Tours, including a guided tasting, take roughly one hour
Tours are generally suitable for those 16 years and older
Tour Schedule
Fridays: 5pm
Saturdays: 3pm and 5pm
Private tours for 10 or more can be arranged. Please request a booking.