A Spirited Experience on the Seattle Waterfront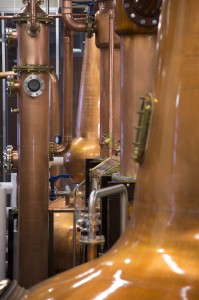 Voted "Best Distillery" in Seattle Magazine's 2014 Readers' Choice Awards.
Copperworks Distilling Company is a craft distillery, tasting room and retail store located in the heart of Seattle's downtown waterfront. We focus on creating premium spirits that can stand impressively on their own or serve as a delicious base for new and classic cocktails.
All our spirits are distilled from premium malted barley, primarily grown in Washington State. We currently offer gin and vodka and our all-malt whiskey is aging in charred, new American Oak barrels.
The Right Still for the Right Spirit
We craft fine spirits in traditional Scottish copper stills which were hand-built by expert coppersmiths in the highlands of Scotland. With four custom-built stills, we're able to produce each of our products in a still best suited to that individual spirit.
Jason Parker, co-owner/distiller at Copperworks, talks with Seattle's KOMO News Radio about Copperworks in this interview.
We believe these traditional copper pot and column stills provide the best possible flavor for our spirits. In other words: copper works!