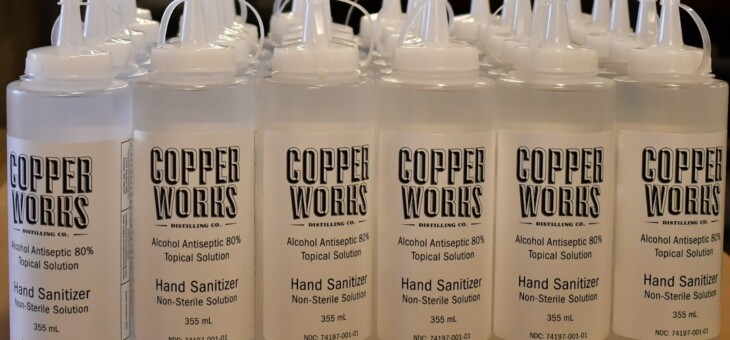 Copperworks has been pleased to be able to shift our operations to making hand sanitizer to help fill the shortage in our community. We're happy to put our column still to work to produce the main ingredient of sanitizer: grain neutral spirit of 191 proof.
We've been producing sanitizer as quickly as possible to fulfill urgent requests from the healthcare community, first responders, frontline workers and employers, and more. And we now have sufficient supply to offer it the general public.
Now available for sale in our online store.
Sanitizer Available for Pickup at the Distillery
Copperworks Hand Sanitizer is a liquid format (not a gel consistency) which meets  FDA and WHO specifications. It is available in individual bottles and in bulk.
5-gallon bucket, $290.00
12 oz. bottle, $7.99
---
Pick-up Hours:  Monday – Friday, 2 – 4pm
Pick up at Copperworks Distilling, 1250 Alaskan Way, Seattle
If you're unable to come to the distillery during those hours, please call 206.504.7604 to discuss alternative hours.
---
Order online: We encourage customers to order any of our products online in advance to ensure we have them in stock when you arrive. We will provide only spirits and sanitizer to walk-in customers and payment must be made by credit card.
Pick-up only:  Sanitizer is currently only available for pick-up at the distillery. We're not able to ship hand sanitizer at this time.
Limited supply:  Due to limited supply of sanitizer, we ask that you purchase only what you will use in the short term. We'll keep producing hand sanitizer in the coming months—working hard to supply the needs from both the care-giving community and individual purchasers. Please check back to restock.
Discount for Frontline Organizations
If you are purchasing sanitizer on behalf of a non-profit, first-responder, or government entity, use the promo code FRONTLINE in our online store to receive a 15% discount on your order.
We will ask to see credentials from your organization (employee badge, business card, etc.) when you pick up your order.
_________________________________________
To ensure your visit is safe and healthy:
We offer pick-up of your order in the lobby of our tasting room.
Social distancing guidelines will be in effect.
We encourage customers to wear masks when they enter the Copperworks lobby.