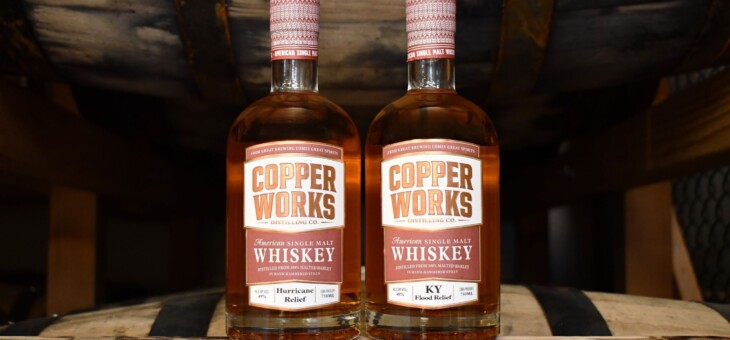 Benefit Releases of Copperworks American Single Malt Whiskey
For every bottle sold, $40 will be donated to relief efforts for Kentucky floods and Hurricane Ian
We are proud to introduce Copperworks Kentucky Flood Relief American Single Malt Whiskey and Copperworks Hurricane Ian Relief American Single Malt Whiskey.
The whiskey is the same for both bottles and for every bottle sold, $40 will be donated to relief efforts.
If you purchase a Kentucky Flood Relief bottle, the donation will be made to the Team Eastern Kentucky Flood Relief Fund. If you purchase Hurricane Ian Relief bottle, the donation will be made to the American Red Cross to support those impacted by Hurricane Ian.
Bottles are now available for purchase at our Seattle Distillery & Tasting Room and in our online store.
Whiskey Releases to Support Relief Efforts
In late July 2022, catastrophic flash flooding hit parts of eastern Kentucky, claiming dozens of lives and causing extensive damage. Several Copperworks team members including Jason Parker, Co-Founder and President, and Thomas Paessler, Head Distiller, hail from the Bluegrass State. Our team went to work immediately to produce a benefit release of Copperworks American Single Malt Whiskey to support aid efforts in Kentucky.
As we were preparing to bottle and announce this benefit release, Hurricane Ian swept through Florida and nearby states. We broadened the release effort to support both regions impacted by these natural disasters.
Our first benefit release in support of natural disaster aid came in December 2021 after devastating tornadoes hit western Kentucky. That release sold out quickly and we were thrilled to provide a sizable donation to support tornado relief efforts in Jason's hometown of Bowling Green and beyond.
One Whiskey, Two Releases for Two Disasters
The whiskey for these two special benefit releases came from whiskey matured in two casks that previously held bourbon and from one new American Oak cask. Whiskey from one of the bourbon casks was made from pale malt and matured for more than five and half years. Whiskey from the other bourbon cask was crafted from a rare single varietal malted barley called "Alba" and matured for six and half years. Whiskey from the new American Oak cask was made from pale malt and matured for nearly four years. Get detailed production specifications for this release.
Tasting Notes:  Opens with aromas of orange zest, sweet tea, apple pie, and cereal. Apple pie continues as a dominate flavor, along with peach and sponge cake. This delightful combination finishes with a little almond paste, raisin, and even more peach notes, making this a very delicious southern-flavor focused whiskey.
Available now:
Copperworks Kentucky Flood Relief American Single Malt Whiskey
Copperworks Hurricane Ian Relief American Single Malt Whiskey