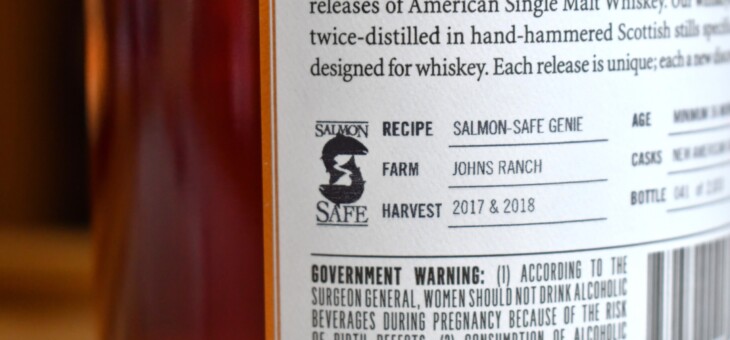 In 2021, Copperworks released the first whiskey ever made from Salmon-Safe certified grains (Release 039). We are proud to introduce Release 046, our second Salmon-Safe certified American Single Malt Whiskey, as we continue working toward this designation becoming the standard for all our spirits.
Release 046 represents thoughtful farming and distillation practices joining forces and is also a reminder of Copperworks' commitment to the pursuit of both flavor and sustainability – it turns out that we can have our whiskey and drink it, too!
Salmon-Safe
Salmon-Safe is leading the movement to implement farming practices and developments that protect water quality, maintain watershed health, and restore fish and wildlife habitat. Such practices include planting trees on streams for shade, growing cover crops to control runoff, and applying natural methods to control weeds and pests. 100% of the malted barley used to craft this release was grown in adherence with practices qualified as certified Salmon-Safe.
A Flavorful and Sustainable American Single Malt
Copperworks American Single Malt Whiskey, Release 046, was crafted from a single varietal barley called Genie, from a single farm (Johns Ranch) in Athena, Oregon. Eight new American Oak casks were used, with char #2 and staves that had been open air-seasoned for a minimum of two years. Six of the casks were from the 2018 barley harvest and matured for three years, while the remaining two casks were from the 2017 harvest and matured for three years and seven months.
On the nose, lemon zest greets you alongside a slight effervescence, followed by oak, subtle florals, and a waft of straw and minerality. Mouthwatering on the palate, with notes of candied citrus peel, sugared ruby red grapefruit, rose water, and chocolate raspberries, with minerality continuing from the nose. Oak presents itself gently at first, ramping up with each sip. Canned fruit salad, lemongrass, and roasted coffee linger on the finish, held together with the lemon zest experienced on the nose. This is a great sipper to celebrate the return of cooler weather and the return of the salmon.
Copperworks American Single Malt Whiskey, Release 046
>  2,033 bottles produced (750ml)
>  50% ABV (100 Proof)
>  $69.99 (plus tax and shipping)