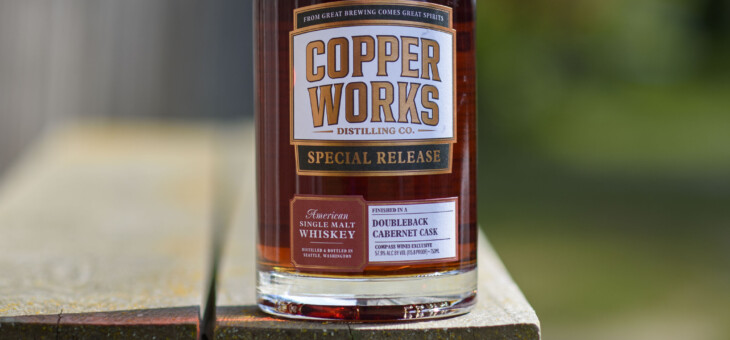 We're excited to announce Copperworks American Single Malt Whiskey Doubleback Cabernet Cask, a special collaboration and exclusive single cask release with Compass Wines. For decades, Compass Wines (Anacortes, WA) has been a staunch supporter of Washington wine. When they added spirits to their portfolio in 2020, it was only natural that they would take a serious position on Washington whiskey as well. Together, we selected a Copperworks American Single Malt Whiskey to be finished in a stunning Cabernet cask from the legendary Doubleback Winery. Doug Charles, co-owner of Compass Wines, actually drove to Walla Walla the day this cask was emptied at Doubleback, loaded it in the back of his Volvo wagon, and hand delivered it to our distillery on the same day, where it was immediately filled with this incredible whiskey.  With the barley and wine cask originating just down the road from one another, this release is a celebration of flavors from Washington's Walla Walla Valley. The unique character of Washington malt from a single farm is remarkable on its own, but add layers upon layers of the decadent red fruit which Walla Walla Cabernet is known for, and you've got something truly special.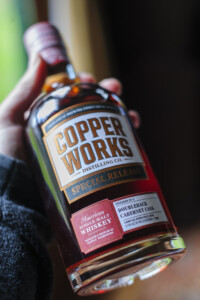 Release Party & Bottling Signing
To celebrate the collaboration, Compass Wines is hosting a release party and bottle signing on May 19, 2023 from 4pm-7pm. Join Copperworks President and Co-Founder, Jason Parker, and Compass Wines Co-Owner, Doug Charles, to be one of the first to grab a bottle from this exclusive release and have it signed!
Note: This release is available exclusively through Compass Wines. It will not be available for tasting or purchase at Copperworks. 
For more details about the event or release, please reach out to Doug Charles at [email protected].
Copperworks American Single Malt Whiskey Doubleback Cabernet Cask
Crafted from Genie barley (Salmon-Safe certified) grown on HT Rea Farms in Washington's Walla Walla Valley. The whiskey matured in new American Oak casks for 3 years and 5 months, then finished for 11 months in a French Oak cask that previously held Doubleback Cabernet Sauvignon, also in the Walla Walla Valley.
277 bottles produced (750ml)
57.9% ABV (115.8 Proof)
Click here to pre-order before the release party at Compass Wines on May 19.