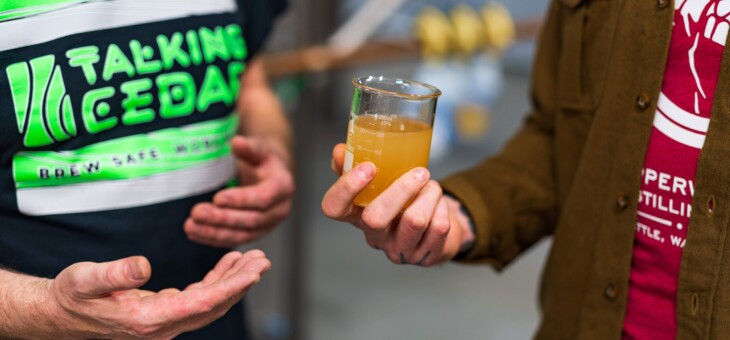 Since day one, Copperworks has remained guided by our founding principle: from great brewing comes great spirits. We're pleased to introduce our newest partner who is taking great brewing to a whole new level: Talking Cedar.  We have always worked with local breweries to make the beer (without hops) which we then distill into all our products. These partnerships stem from our founders' years of experience in the craft brewing industry and have given us the opportunity to steadily grow over the last decade.  As a sign of our success, we reached maximum capacity in 2022 with our first three brewing partners. By forming this new partnership with Talking Cedar, we're setting Copperworks up for many more years of success as we continue to expand.
For a deep dive into this partnership, check out this article by Experience Olympia & Beyond.
About Talking Cedar
Located in the Chehalis River Valley south of Seattle, Talking Cedar is Southwest Washington's first tribally owned and operated craft brewery, as well as a Pacific Northwest destination distillery, restaurant, tap room and tasting room. Talking Cedar and Copperworks share a vision and commitment to sourcing local ingredients in order to support farming communities in our region while producing the highest quality craft beverages.
About Our Partnership
Our partnership came naturally thanks to the relationship forged between Copperworks President and Co-Founder, Jason Parker, and Talking Cedar Plant Manager, Scott La Roy, during their years in the craft beer industry together.
At their new, state-of-the-art facility, Talking Cedar stores locally sourced malted barley selected and purchased by Copperworks, then brews and ferments (without hops) according to Copperworks' recipe and specifications. In fact, two fermenters at Talking Cedar are reserved exclusively for Copperworks! Finally, the finished beer is transferred to Copperworks' facility in Seattle, at which point Copperworks' distillers handle the rest of the production process (distillation, barreling, maturation, bottling).
Thanks to this partnership, we've seen an immediate increase in our whiskey production, which will continue (up to 5x our previous capacity!) as we expand or own production team in the future. While we had initially planned to construct our own production facility during a crowdfunding campaign in 2021, the opportunity to partner with Talking Cedar became available following the conclusion of that campaign. We realized this would save us millions in capital expenditure, plus years of design and construction. In other words, we found a way to increase our production capacity much sooner while still utilizing a state-of-the-art facility and staying true to our founding principle.