A Distillery Full of Copper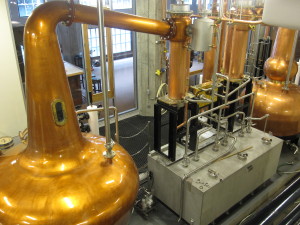 Named "2018 Distillery of the Year"
— American Distillers Institute
Voted "Best Distillery"
— 2014 Readers' Choice Awards, Seattle Metropolitan Magazine

Voted "Best Distillery"
— 2014 Readers' Choice Awards, Seattle Weekly

Copperworks Distilling Company is a distillery, tasting room, and gift shop located on the waterfront in downtown Seattle, Washington. The company produces small-batch American Single Malt Whiskey, a series of gins, and vodka, all from malted barley. The spirits are distilled in traditional copper stills that were specifically designed for Copperworks and for the distillation of each individual spirit.
The centerpiece of Copperworks distillery is our family of four traditional copper stills. They were hammered by the hands of expert coppersmiths in the highlands of Scotland at Forsyths, one of the world's leading manufacturers of distilling equipment. Learn more about our copper stills.
Fermenting Tanks
Our three stainless steel fermenting tanks weigh a total of nearly 10,000 pounds. Their job is to ferment un-hopped, high-quality craft beer that is the start of all the spirits we produce.
The Tasting Room
Unlike our distilling equipment, which is custom-built to meet Copperworks unique specifications, the highlight of our tasting room has had previous lives.
The room features a tall oak antique back bar built more than 120 years ago in Montana. The bar graced the floor of the B&O Espresso on Seattle's Capitol Hill for many years.